Religion in Austria and Steyr
30/06/23
For the team from Mountain View Community Church in Fresno, California, I put together an overview about religion in Austria.
Here is the expanded version of the document to view and/or download:
LINK
Going HOME... Letting go
15/11/22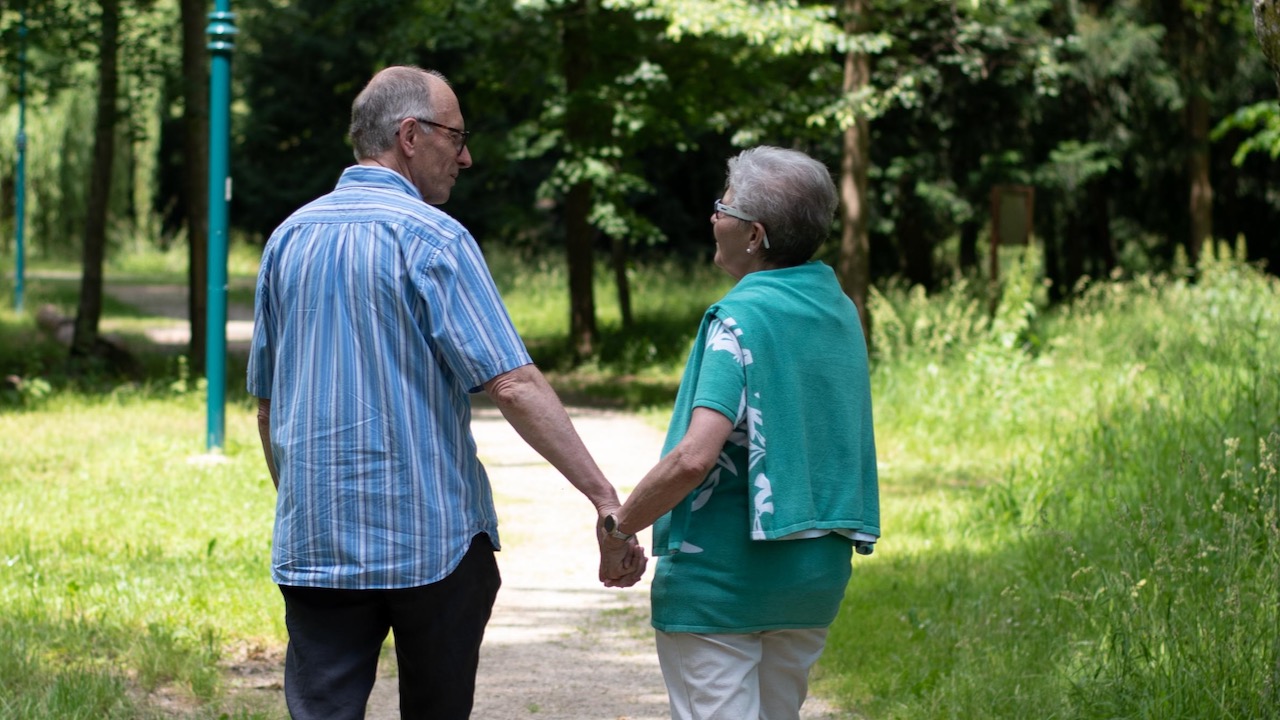 This is a major event, the end of an era and the start of a new one: My dear wife Regina went to be with JESUS on July 16, 2022. She has had issues with heart defects from birth on and in the last year her spinal cord and its degeneration was the cause of constant pain. After some medical problems following a heart catheter the super strong muscle that pumped her blood for 70 years came to rest.
As a family, and I as a new widower, we have felt the presence of our Lord Jesus in all of these events, experienced his grace to cope with the loss, and continue our lives in deep gratitude for what Regina has been to us, done for us, and continues to be in our hearts as a cherished person and huge example of an authentic follower of Jesus Christ. We share the same hope, follow the same Messiah, and will meet again in the Father's House.
Oh my goodness!
16/08/17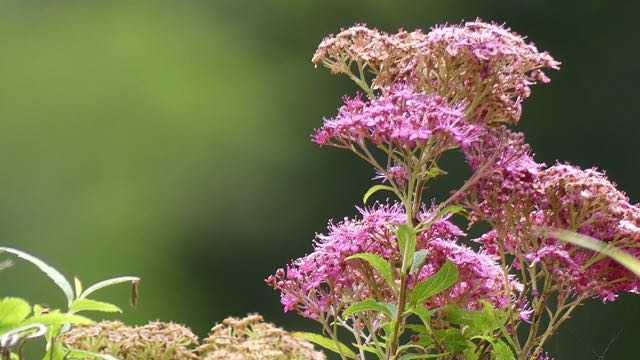 Three years since the last entry here on the English page…! It seems hopeless to catch up and to give a summary of all that transpired in these years.
We are still alive and (mostly) well, are greatly encouraged by our kids and grandchildren, engaged in church and beyond for the Kingdom of God, as good as we can. We desire to see more breakthroughs, see the Spirit of God mightily at work in people's lives and in our sickening society. There is hope, and it has a Name: JESUS!
With that we greet all our English speaking visitors. If you want to know anything in more detail, please feel free to write to us by using the contact form. Thank you!
Shalom,
Franz & Regina
Since the last update
09/08/14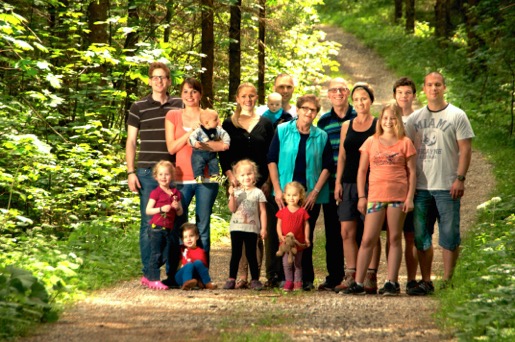 ... again a number of events have taken place. Most notably the birth of two more grandchildren. Leo was born in November 2013 as the third child to Tobias and Silvia. And Annette and Gerald got their third child, also a boy, Levin, in Februar 2014. We are glad that everything went well and that all the eight grandkids are doing well.
We are continuing to seek to help people to get to know the Lord. Every two weeks or so we have a group gathering at our home that is made up of interested seekers who like to discuss various themes. We studied passages of the Bible together, watched good movies and plan to use the bestseller by Rick Warren, Purpose-driven Life, in the fall of 2014 to focus in on major themes for living life to the fullest.
Regina's eyes have become more painful over the last months, so she is considering to have another round of treatments with the blood serum drops. We will look into that in September.
What she enjoys a lot is her new kitchen machine that we bought several weeks ago. Cooking delicious, mostly vegan meals is greatly helped by this appliance.
More changes
28/12/12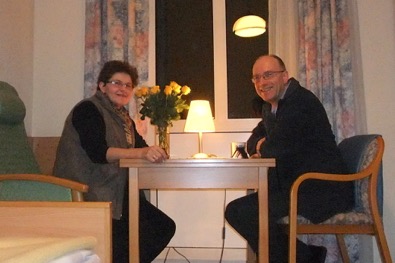 Since our last entry of the English section of our website its almost three (!) years old, we will give you a brief update of some of the changes that took place of these three years.
+
Tobias and Silvia
moved back to Steyr, living at Silvia's parents place, a few km outside of Steyr. They are parents to
Lilo
(born in June 2010) and
Tim
(born February 2012). Tobias is going to be installed as the pastor of the Steyr Pentecostal Church on January 6, 2013
+
Annette and Gerald
also became parents:
Livia
was born in March 2010 and
Aurelie
in September 2011. In the last couple of months Gerald took a specialized training to become a certified fitness instructor. He wants to develop his own sports coaching ministry in his free time while he is still employed as a trainer for instructors of the Austrian Army.
+
Mario
has also changed his job in 2012 and works in the quality management of a local factory that deals with bearings. Right now the business is in a big crisis and it is likely that he will need to look for a new job in the coming year.
Kathrin
continues as a pre-school teacher. Jan (14) has started at a technical school in Linz. In his spare time he likes to play the organ at the local Protestant Church where he got baptized last summer.
+
Regina
was struggling with health problems this past year. In summer he eyes were in such a bad state that she could not leave the house anymore (it was too bright outside), she had pain all the time and the corneas of both eyes began to disintegrate. Thanks to God's gracious leading she got a special medication for her eyes, made out of blood serum. Using that for 70 days restored her eyesight to the former level. The three weeks before Christmas she spent at a nearby health spa resort and got special treatments for her eyes as well for the whole body.
+
Franz
is now working for another organization, Berufsförderungsinstitut, but is doing the same job: Working with unemployed people of all ages who are sent for further training. Since several months he is an educational counselor and helps the people to make good choices regarding the program that they are to put together for up to three months.
+ We are involved in the life and ministry of the Pentecostal Church and in some other projects. We gathered people who had read the book "The Shack" and run a discussion group around this bestseller. Since most of the participants didn't know the Bible but had interest in getting to know more about God and his word, we run a bi-weekly Bible Study in fall. Right now it looks like that some of the people will attend the Alpha course that will be run in Steyr, starting in January.
We are so thankful for God's good hand over our lives, our family, and for the many blessings that we have received in the past years. It is our desire to trust him, follow him and live for his glory also in 2013 and beyond.
Good, tough and exciting times
26/01/10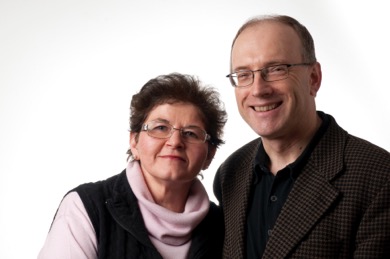 About a year ago we attended a seminar on counseling at the Austrian center of Elijah House. Among many good things that happened there, I (Franz) received a prophetic word about some unexpected changes.
Well, the very week after the seminar I was offered a training course to equip me to become a trainer in adult education myself. From June on I was able to train part-time young jobless people in developing their personality. I do this from a Christian world view foundation and seek to make them think about their lives not just from the angle of getting a job as soon as possible. From February 2010 on, this kind of training will be expanded and I will be working fulltime for several months for this institution called WIFI.
The year 2009 was kind of a sabbatical year. Because we were not responsible for giving leadership in a church, not even bound to a congregation, we were able and sometimes forced to ask ourselves some questions that we had not asked before all of our Christian life. And that was good so! We are now attending the Pentecostal church in Steyr. We plan to start in February with a new home group for spiritually seeking people and trust the Lord that he will guide us in the year ahead.
Half a year ago Regina was going through a very difficult time, stretching over four, five months, in which she had great pain in her eyes, joints and different parts of her body. The doctors tell us it is a rheumatoid form of an autoimmun syndrome, stopping the production of various body fluids, e.g. tear fluid. So Regina had to and is still using articificial tear fluid and other medication (from time to time als Cortison) to fight the symptoms. So far, science has no cure for this problem. We continue to pray and believe God for his intervention at the right time to rescue Regina from this sickness. Whereas in summer she was not able to read, drive the car, go out into the sunshine, now all these things are possible again and we are grateful for that.
We praise the Lord for our three children, their partners and for Jan and Fiona, our two grand children. In March Annette and Gerald will become parents of their first child, and in June it is Silvia and Tobias who will be having their first one as well. Of course, we look forward to these exciting developments! By the way, Tobias and Silvia are back in Austria. They live about 35 km from Steyr and have become associate pastors at the Pentecostal church in Linz. They also help about a quarter of their time in Steyr.
Christmas '08
19/12/08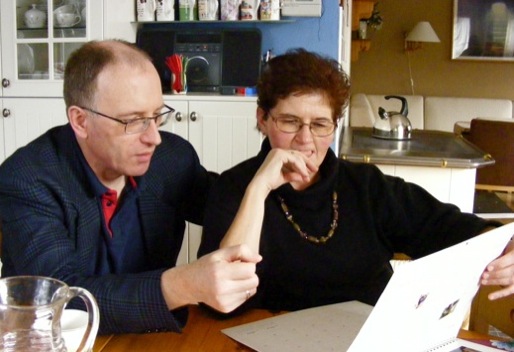 The year 2008 almost has come to a close. We look back over the last half a year since we have embarked on the new path of discovering the ways of God outside of our roles that we had carried before... and we are grateful for all that we have encountered during this time:
A time of slowing down, reflecting on our past and present experiences
A time of seeking God and his revelation for our lives, for healing and redirection
A time of following invitations to refresh old friendships, mentoring, counseling, coaching leaders, preaching a few times in churches where we have never been invited before
We look up to the Lord as we enter the year 2009. If you want to pray for us, ask the Lord to open the eyes and ears of our hearts so that we perceive HIM. If we are able to do that we will also know how he leads us, because he has promised to go before us!
And then - April 2008!
10/04/08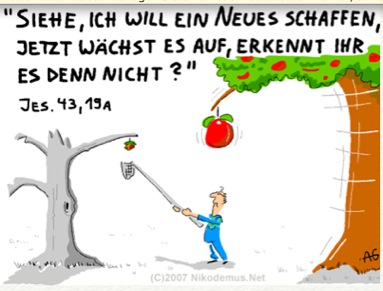 The most important news concerns our decision from January to not be available for another four-year-term as pastoral couple of the Steyr MB church. This means that Franz' last sermon in the church will be on June 1. The month of June is accumulated vacation time - from July 1 on we will be on our own. Stepping out of the boat, so to speak!
The reasons for this move can be found in both personal aspects as well as in some developments in the church body. We are aware that this is both a huge challenge for our congregation, as well as for us! This even more so as we are convinced that we also need to leave our church which has been our spiritual family since the 1970's.
We feel that God is leading us this unknown way, assuring us that we will be on his "list of employees" as long as we do his will. So we trust that he will show us his way and that he will supply our needs (unemployment insurance will cover probably just half of our needed income). The most important aspect, we think, will be our recalibration to the will and ways of God - forfeiting out own, human ways, and learning to walk his ways - anytime, anyplace, anyhow he wishes and shows us!
Last year's Verse of the Year is quoted in the graphic above and comes from Is 43:19a:
"Look, I am about to do something new. Now it begins to happen! Do you not recognize it?"
The verse ends with these words:
"Yes, I will make a road in the desert and paths in the wilderness..."
Wow! How encouraging! Thank you, Lord!
Update April 2007
24/04/07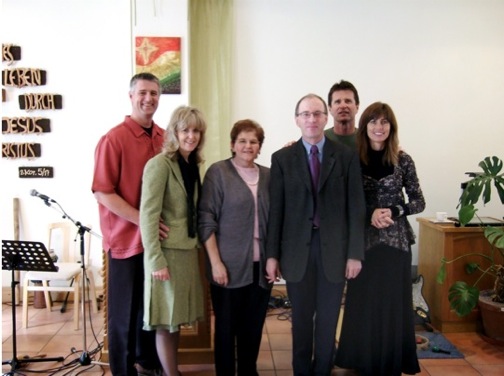 It is unbelievable how much has happened in the last half a year! Let us lift one or two things out for you.
In December 2006 Franz attended a consultation about church planting in Europe in Portugal, organized by MBMSI, the agency he used to work for for ten years. It was a great time to meet again former colleagues and other people who share the same desire to see God's kingdom come and his will be done in our countries as it is in heaven.
One of the things that happened there was that Franz asked a prayer team from Fresno, California, to pray for him. Out of that came a prayer partnership through Mountain View Community Church under the leadership of Fred Leonard. These people really pray for us here in Steyr... and they send prophetic insights and encourage us along the way. In March Fred and his wife plus another couple from the leadership team came and visited us in Austria - first of all in order to bless us, pray for us, encourage us. Wow! It was a great blessing for us...!
Franz' mother is still living by herself and managing pretty well. In our church work we are experiencing both encouraging and discouraging things. But we trust the Lord that He is the victor over all evil and we expect to see His mighty Hand as well as have new encounters with His Presence in the months ahead of us. We desire to experience His Power in actual healings and other signs of His Presence to take place.
September 2006
16/09/06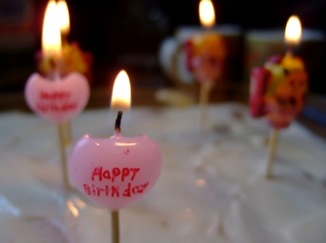 With this month a number of changes have taken or are taking place in the extended Rathmair family.
Our granddaughter Fiona celebrated her third birthday today - next Monday she will proudly start attending the nearby preschool. Just a week ago Mario, her father also began studying at a technical college (HTL) in Linz. He was able to quit his work at the factory due to his back problems and is able to enter this four year training. His school time is five days a week in the evening from 4:30 to 9.30 p.m. In the morning his is at home to do his home work (and house work!) while Kathrin is at her new job. She started a week ago to work as a waitress in a pretty new cafe, starting at six in the morning and working until 1 p.m.
Gerald, our second son-in-law, has had also a change in his work as a trainer with the Austrian Army. Despite his young age 0f 28 he began to be on staff of a unit in Enns that is training the trainers. Till December this will be a tentative assignment, but he hopes that he can continue.
Tobias and Silvia entered their second year of studies at the theological seminary in Germany in August. In July and August they spent three weeks vacation time in Steyr and we enjoyed them.
Anything new for ourselves? Well, Regina and I will be hosting the first Alpha Marriage course, starting on October 13. We hope that at least seven couples will register for this course of seven Friday nights. We meet in a good restaurant and will use the DVD presentation by Nicky and Sila Lee who developed the course at HTB church in London. End of November we will be able to tell you how it went!